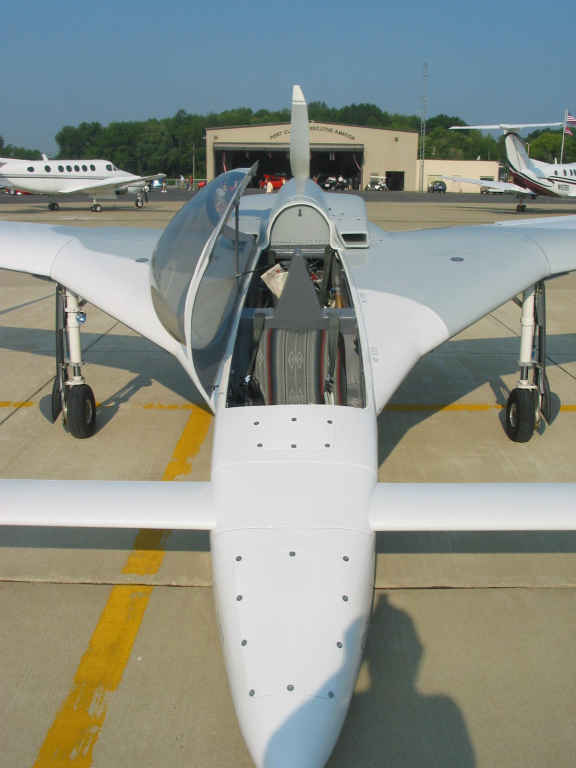 &nbsp &nbsp I just moved the web site to a new server.

If you have any problems with pages or downloads,

let me know, Fly safe, Waiter




---
---
21 June 2005: The right tool for the right job.
I'm now ready to begin installation of Three major electrical systems in my LongEZ; Retractable Landing gear Controller, Dynon EFIS 10A (Flight instrumentation), and Dynon EMS 10 (Engine monitor system) I'm also adding an auxiliary power system to support the installation of an additional E-Mag Electronic Ignition system. What all this means is there are going to be a lot of wires running back and forth, and I want to make it EZ to identify wires.
SO, The way we do this in the military is to engrave a unique wire identification number on each wire. This takes a special machine, one of which myself and Dust (Cozy IV builder) just acquired.

1) Basically, the machine "burns" inked text very lightly into the wire insulation to form a permanent, non alterable ID. The machine is a& mechanical beast. It has a built in heater to heat up the text wheels, it has ten wheels with the full alphanumeric and some punctuation. An adjustable timer pneumatically lowers the hot wheels for a preset time interval (1/2 second typical)
2) The Machine accommodates wires down to about 18 gauge, anything smaller than that, and a shrinkable sleeve is placed over the wire, and the sleeve is embossed. The photo shows a 22 gauge wire with a white shrink tube and the word WAITER 21 embossed.
OK, Enough chit chat, time to start marking wires.
12 June 2005: Small projects, HOT Weather.
Its been unseasonable hot and humid here for the past week. That's great for the lawn, but not good for the lawn cutter (me).

1) This is the pressure switch I will use in place of the two individual Strut Position Switches. This switch comes set at 1,100 psi, but is adjustable.
2) This is the Nose Gear emergency extension mounted in the instrument panel. It uses a standard 1/4 inch ratchet wrench. This is the unit built and sold by Jack Wilhelmson at www.eznoselift.com. NOTE - The fitting moves in/out approximately 1/4 inch as the gear extends retracts, so fit, measure, cut accordingly.
3) This is the back side of the instrument panel. Note that this is the original phenolic block that was used for the original nose gear crank handle. I drilled the center hole larger so I could mount the ratchet fixture flush.
4) The weather was HOT and humid on Saturday, so I drove down to Indianapolis and picked up my motor. Its a 1988 model Mazda 13b rotary engine. Initial inspection and teardown on Sunday. It looks like the engine is in very good condition and will require minimal work to make it aviation ready. I don't think I'll be installing the engine during this retrofit, but I do have plans on building it up and installing it in the near future. These engines are showing a lot of promise in the aviation community.
5) I did do some work on the plane, I was able to make up the tube and fittings for the strut compression lines on both gear legs.
6 June 2005 : Updated drawings and manual, Gear Change.
I updated the LongEZ electrical drawings and Landing gear documentation. The drawings also include some other interfaces that have nothing to do with the gear, but I decided to include them so I have it documented. These are now posted on the site.
I updated the software for the KNEEL function. This function now includes the ability to look at the status of a "TILT" switch. If the fuselage is not parked with a minimum nose down angle, the KNEEL will not work. This feature was added to prevent inadvertent tip backs, if the nose isn't down low enough.
After much deliberation on the pros and cons, I've made a change on how the main gear senses the oleo strut position. The design, as it comes from Infinity Aerospace, has you install a switch on each of the gear legs to activate when the corresponding oleo strut is fully compressed. The purpose is to let the controller know that the struts are compressed, and its OK to start retracting the gear. This is a perfectly workable solution, contingent on the switches being adjusted properly.
In order to simplify the design, I've elected to eliminate these two switches, and replace them with one pressure switch to monitor the oleo strut compression hydraulic pressure. The amount of pressure it takes to fully compress the struts is directly proportional to the static pressure charge that the struts are serviced to. With that in mind, the pressure values in this example are NOT accurate and are for illustration only.
During the retract cycle, when the strut solenoid valve is energized, the pump pressure is sent to the oleo struts and they start compressing. The struts are fully compressed (bottomed out) as the hydraulic pressure passes through approximately 1,000 psi. The new oleo strut pressure switch is adjusted to 1,200 psi. When the pressure reaches 1,200 psi, the switch closes to signal that the struts are fully compressed. The gear controller then de-energizes the solenoid, and diverts the hydraulic pump to the UP side of the retract actuator, and perform a normal gear retraction.
As the strut solenoid leaks down (it will leak a very small amount) the hydraulic pressure holding the struts compressed slowly drops. When the pressure reaches about 1,100 psi, the pressure switch will again make contact and cycle the hydraulic pump to maintain the 1,200 psi in the oleo strut hydraulic circuit. Note that the pressure did NOT drop below 1000 psi, therefore, the strut never started to extend inside the wheel well.
I like this approach for the following reasons;
1) In the original as built plans, depending on the sloppiness and hysteresis of the strut switches, and the clearances between the tire and the wheel well, its possible that the strut could extend inside the wheel well a 1/4 inch or so, without opening the strut switch to signal the controller that the strut is not compressed. By using the oleo strut compression hydraulic switch, this failure mode cannot happen. As long as the pressure is held greater than 1,000 psi, the struts will stay compressed.
2) It eliminates two mechanical switches on the struts, therefore simplifying the installation.
If you have any thoughts on this subject, please drop me a note. waiter (at) iflyez (dot) com
5 June 2005: Hot Weekend.
Looks like the weather has Finally warmed up. This is the first time it got above 90 since last August.

1) Got most of the holes drilled for circuit breakers and switches.
2) Painted with F-16 dark gray,. Now comes the part about getting it all put back together and rewired.
I also painted inside the turtle deck, so I can now mount the gear controller and start wiring it.
1 June 2005: Happy memorial Day Weekend
Got a lot accomplished this weekend, Unfortunately, most of it wasn't on the plane. Replaced a Starter on the car, New plugs and wires on my truck, yard work, and cleaned up the work area in the barn.
I updated the LongEZ electrical drawings. I was able to eliminate a couple odd style relays, and now use all generic Automotive relays throughout. These are the SPDT models, about 1in x 1in x 1in, capable of 30 to 40 amps. Jameco has these for $2 each. They also sell a 9 inch long pigtail wiring harness that already has the suppression diode installed. Very nice for airplane stuff. Because of their high current, the Starter, Master, and the two Hydraulic relays are similar to the old high current, Ford starter relays. DRAWINGS.
I also updated the gear controller software to reflect the change on how the nose gear is controlled.
The MANUAL is updated to include the addition of an AUX gear and strut extension electrical circuit and procedure, in the event of a total controller failure. This allows the solenoids to be energized directly without going through the computer.Keep in mind that the manual is a preliminary design review document, not really meant to be an end user document. With that said, if you have any comments, please let me know. waiter (AT) iflyez (DOT) com

1) I made a skin (3 layers of BID), and cut it to fit over the old instrument panel. When I was satisfied with the fit, I used my DA with a sanding wheel, and scratched the entire surface of the old panel. I brushed a thin layer of epoxy on the old panel, and the skin, then applied a thin layer of wet flox. I clamped the new skin to the old panel and let cure.
2) The new skin with cutouts for radios and the Dynon EFIS and Dynon EMS.
3) Rough drawing of the new LongEZ panel layout.
---
Waiters GPS Set Time program.
Waiters Flight Data Recorder.
Flight Data Recorder.
Recording aircraft flight data.
Aircraft Voice recorder.
Garmin GPS.
Garmin GPS Serial data Format.
Recording EFIS data.
Capture Serial data.
Convert Raw Data Files.
Free GPS Software.
Reading GPS data.
Reading Garmin GPS data.
Aircraft EFIS Flight Instruments.
Electronic Flight Instruments.
Aircraft Engine Monitor System.
Garmin G format.
Infinity landing gear LongEZ Plans Built Airplane.
Oil Heat system for Homebuilt airplane.
LongEZ Canard and main Wing.
Dynon instrument panel.
Custom Mouse cursors.
Garmin Serial Data Format.
Easy, Free Computer Time setting by GPS Receiver.
Custom mouse pointers.
Custom airplane mouse pointers.
LongEZ Nose gear doors.
Long-EZ main landing gear doors.
LongEZ grasscutter landing gear door.
Custom LongEZ mouse pointers.
Lycoming engine in LongEZ.
MT Propellor with 6 inch propellor extension.
EZNose Lift retractable nose gear for Long-EZ.
Rutan LongEZ is a plans built aircraft.
High speed homebuilt airplane.
Retractable landing gear for LongEZ.
Custom Airbus mouse cursor pointer.
Custom Velocity mouse cursor pointer.
NMEA 0183 Serial data Format.
Custom Cozy mouse cursor pointer.
Custom Aerocanard airplane mouse cursor pointer.
Custom E-Racer mouse cursor pointer.
Custom Canard airplane mouse cursor pointer.
Custom LongEZ mouse cursor pointer.
Set your Computer clock with this free GPS software.
Custom F15 mouse cursor pointer.
Custom A10 Warthog mouse cursor pointer.
LongEZ Hydraulic pump.
Retractable landing gear for a Long-EZ.
Custom F16 mouse cursor pointer.
Custom F14 mouse cursor pointer.
Custom Boeing 747 mouse cursor pointer.
Custom Boeing 767 mouse cursor pointer.
Custom Boeing 777 mouse cursor pointer.
Custom Boeing 737 mouse cursor pointer.
GPS Time Sync.
Custom Boeing 727 mouse cursor pointer.
Landing gear door rigging.
Custom Boeing 757 mouse cursor pointer.
Custom MD80 mouse cursor pointer.
Custom DC9 mouse cursor pointer.
Setting your computer to a GPS Time.
Custom RV mouse cursor pointer.
Downdraft cooling for LongEZ.
Speed brake installation.
Waiters Flight Data Recorder.
LongEZ Baggage pods installation instructions.
Waiters Custom Airplane mouse cursors.
Free GPS Time Sync Program.
LongEZ Intercom installation.
Major airframe overhaul of plans built EZ.
Weight and balance for a LongEZ.
Weight and Balance spreadsheet download for a Long-EZ.
LongEZ fuel system design.
How To remove the wings from a LongEZ.
How To remove the canard from a LongEZ.
Waiters GPS Time sync program runs on PC.
How To remove the engine from a LongEZ.
Long-EZ Downdraft cooling for a Lycoming O-320.
Long-EZ Wing Removal and installation instructions.
Waiters Retractable Landing Gear Controller.
Landing Light installation in LongEZ.
Install free EFIS software on your PC.
How to Put several longezs in one hangar.
How to install an Infinity Aerospace Retractable landing gear in a Long-EZ.
How to install DownDraft cooling on a Long-EZ.
GPS Time.
Setting you computer clock to GPS time.
How to set your Computer clock to GPS Time.
Using your GPS Receiver to set your computers clock.
Low cost GPS receiver used to syncronize Computer clock to GPS time.
Neat Canopy stay system for an EZ.
Cabin Heat using engine oil as source.
Waiters GPS Time, Syncronize your PCs internal clock with the GPS satellite.
Remote display of EFIS on a PC.
Cabin Oil Heater for a LongEZ.
LongEZ Landing Gear Door.
Rigging a LongEZ Landing Gear door.
Icom Radio in LongEZ.
How to Build a Manometer.
LongEZ Electrical system upgrades.
Grand Rapids EMS.
Custom Windows cursors.
Custom Windows mouse pointers.
LongEZ Cowling for downdraft cooling.
Record holding LongEZ flights.
Using a PLC for a retractable Landing Gear Controller in a LongEZ.
Syncronize your PCs clock to a GPS receiver.
Airspeed vs pressure lookup tables.
How to build a homebuilt airplane.
Video of LongEZ taking off.
Grasscutter landing gear door.
EZ Nose Lift installation.
Landing Gear status indicator.
Shareware software can set your PC clock vie a GPS receiver.
Landing Gear controller computer for LongEZ.
Landing gear doors.
Dynon EMS10 installed in instrument panel of a LongEZ.
Dynon EFIS D10A installed in instrument panel of a LongEZ.
Flight Data Recorder Software.
PlansBuilt LongEZ.
Video of High G turn in a Long EZ.
Strong Pitch Trim system installed in a LongEZ.
Strong Pitch Trim mounted on Left Side of Long-EZ.
Free software sets your PC clock with a GPS receiver.
Video of LongEZ Taking off.
Video of LongEZ Landing.
Video of LongEZ performing a high G turn.
Video of Infinity Landing gear being retracted into a LongEZ.
LongEZ Color White.
Painting your LongEZ.
White LongEZ.
Camoflage LongEZ.
Infinity Landing Gear for LongEZ.
Strong Pitch system.