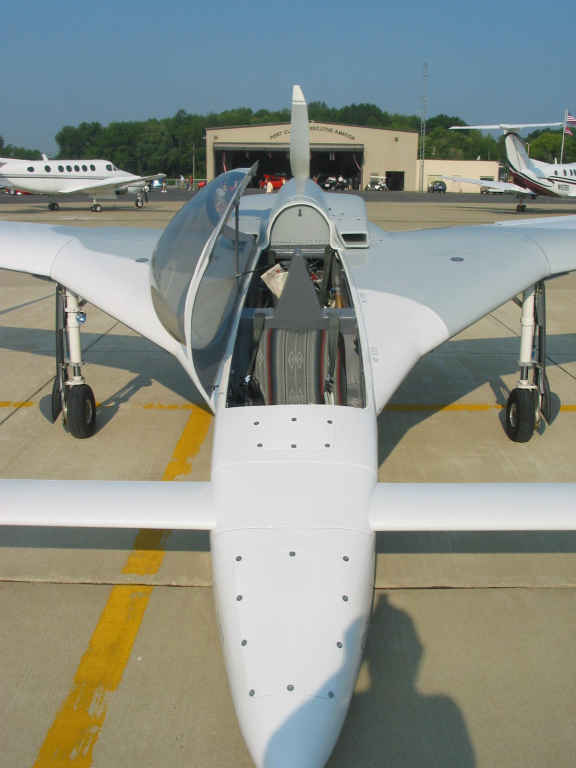 &nbsp &nbsp I just moved the web site to a new server.

If you have any problems with pages or downloads,

let me know, Fly safe, Waiter




---
---
22 MAY 2005: The problem is not in your set, PLEASE STAND BY.
This site was down most of the day. Last night, I was changing a couple Meta tags and hit the wrong button, all the sudden, ALL my tags were trashed. How do you spell "OPS". Anyway, I uploaded an archive and repaired it, so I'm back in business.
22 MAY 2005:Instrument panel.
One of the major objectives of this retrofit was the upgrading of some of the original LongEZ instruments. I really don't want to take the time and do a complete rewire, or a whole new instrument panel, but yet I don't want the panel to look like its been modified and reworked, and modified, and cut up "one more time". I want a fresh panel with fresh markings and no unused holes.
The basic panel will maintain its original shape, the radio stack location, some of the circuit breakers and switches, Also, over the years, I have added and deleted stuff from the panel, and haven't spent a lot of time cleaning up.
So I'm going to do something that I haven't heard done before, and that's a "RE-SKIN". I've laid up three layers of BID. When this cures, I'll cut it to the exact shape as the front of the panel. I'll then cut out the existing radio stack, circuit breakers, switch's, and instruments. After the fit check indicates that the "skin" lines up properly, I'll use a very small amount of flox, and epoxy the skin over the old panel. This will cover the old holes that aren't used, and provide the new instruments with a little stronger backing than if I re-cut the original panel "one more time". I was thinking of doing this with an Aluminum sheet, but I don't have the equipment, tools, or time to do it the way it have to be done. I think the Re-skin will serve the purpose and look just as good.

1) Panel getting ready for the Re-Skin.
2) The upper surface of the outboard strakes is glassed, and now this is the first coat of filler.
21 MAY 2005: Outer doors, and Top of "D" bulkhead.
The Top gear doors hinges on the main door. When the gear comes down, the top door slides outboard along the leading edge of the wing.

1) the top door is hinged separately, The surface that hinge mounts to on the main door needs two additional plies of Glass BID. This offers "contact" protection so the Aluminum, Hinge doesn't come in contact with the Carbon fiber.
2) The door is temporarily mounted for fit check, You can see how the door will ride along the leading edge of the wing when the wing is attached.
3) The top surface of the outer strake structural "D" bulkhead is glassed with 2in BID tape. The "D" bulkhead is now a complete structural member that supports loads from the strake.
18 MAY 2005: PAINT CODES - FOUND.
The F-16 uses three main colors, Gray, Gray, and Gray.
In case your interested, the first number is the Government Paint code number, and the second number is the corresponding Dupond Centari number:
FS36375 = LS190 > Light Gray
FS36270 = LS216 > Med Gray
FS36118 = DS195 > Dark Gray

16 MAY 2005: WANTED - PAINT CODES.
In honor of our local 180th Fighter Wing located here at Toledo Express, (They are NOT on the closure list) I've chosen a paint scheme for my EZ when it comes out of retrofit. If you've painted an F-16 recently, I'm looking for the paint codes for the light and darker color grays that are used. I'll be using DuPont CENTARI.

Send me an e-mail if you can help me with any information.
waiter (at) iflyez (dot) com
THANKS
15 MAY 2005: Fitting Gear Doors.
When I made the gear doors., I did it in a manner similar to the Infinity Aerospace installation instructions. The only difference is, I used carbon fiber, and also laid in plywood "hard points" where the bolts would pass through. I must say, they came out very light, very flat, perfect. Unfortunately, that was a problem. The bottom of the strake isn't perfectly flat, and actually does a slight twist. The outboard, forward edge is actually twisted up (twisted down, I'm looking at it with the plane flipped on its back) slightly by 1/4 inch. Before going to the trouble of making new gear doors, I decided to try a technique I used to "Tweak" epoxy.
I have a kerosene "Salamander" heater that I use occasionally in my shop. I prepared all my clamps, wedges, and shim.I then used the salamander to heat the area of the door that needed to be tweaked. It was very hot and probably approached 200F. I quickly placed the door over the wheel well and weighed, clamped, and shimmed everything.
IT WORKED. By re-heating, I was able to "soften" the epoxy just enough to allow a slight bending. When the epoxy re-cured at this new higher temperature, it held is new, slightly bent shape. Normally, you only get one shot at the "re-heat" process, because the epoxy now post cured at the new higher temperature. In order to do this again, I would have to reheat it to an even higher temperature.
Keep in mind when looking at these photos, the fuselage is laying on its back.

1) These photos show how I attach the gear doors to the strut. The top attach point was welded to the steel trunion pivot assembly some time ago. The gear doors are held in place with stainless steel countersunk screws. The screws go through the door and are Shimmed for the correct seating by using washers. The area where the screws pass through the door,, there is a small pieced of aviation plywood to act as a hoard point inside the door.
2) The bottom door attach point is made from a prefabricated collar that clamps on the bottom of the strut (Hasn't been painted yet). The gear door attaches to it exactly the same as the top support.

3) One of the problems with making doors, is they need to conform to the surface that they cover. This can be problematic if there is nothing to "Mold" the door to The small outer gear door has a very complex twist to it where it starts curving up to form the leading edge. The door needs these complex bends molded into it. The finished door will measure about 8 x 10. This door is hinged to the main door, and spring loaded. As the gear extends, this door slides outboard along the bottom of the wing.
4) Take a very thin piece of sheet metal and cut it so it would cover the hole. This will act as our mold for the door.
5) Tape the sheet metal down, it has no kinks and makes a nice smooth curved transition. The tape will also act as a release.
6) I first laid down peel ply, then 6 layers of BID, then topped it off with peel ply.
When it cures, It should match the contour of the bottom of the strake. It needs to be cut, trimmed, and the hinge and spring installed.
14 MAY 2005: Filler around wheel well.

1 & 2) These two photos show where the micro has been cracked. I've ground it out and will be refilling it. This is non structural and is the filler (micro) not being able to flex. I routinely pull a lot of Gs with my LongEZ. One of the consequences was the filler cracking around the area on the center spar where it begins its sweep back. This would be the area under the most stress of twisting and bending.
10 MAY 2005: Switches

1) The magnet is cut and trimmed so when it slides in the hole, it is flush with the end. It cannot stick out any, or it will interfere with the over center geometry.
2) The magnet is inserted in the hole after being coated with a small amount of JB Weld. I used a deburring tool in the Dremel to scratch the inside of the hole. I also roughened up the exterior of the magnet, this will give the JB Weld something to grip to.
3) The switch is also coated with JB Weld and inserted in the lower hole. The switch is adjusted so it just makes as the side brace comes over center. There is some hysteresis the switch, and it doesn't open until the side brace is out of over center.
4) The UP LOCK switches are adjusted and mounted on their brackets.
7 MAY 2005: Paint and Polish
Primered most of the bottom and the wheel wells. I also painted the insides of the wheel wells a white color. I need to fit the gear doors. When I get these fit and mounted, then I can finish fairing in the bottom of the strakes.

6 MAY 2005: Post Cure

1) Uplock switch bracket installed and drilled for the switch
2 & 3) Post cure of carbon fiber gear doors. OAT 70 f, Carbon surface temperature 120 f
1 MAY 2005: Gear Doors and Strake Ends

1) The Gear doors are made of carbon fiber from US Composites. In this photo, there are two layers of Carbon BID laid up under the 3/8 foam cores. The foam will be carved out, and hard point reinforcements added, then two layers of Carbon BID will go on the inside.
2 and 3) The Strake end covers are floxed in place and trimmed. I still need to add three layers of BID around the outside.
---
Waiters GPS Set Time program.
Waiters Flight Data Recorder.
Flight Data Recorder.
Recording aircraft flight data.
Aircraft Voice recorder.
Garmin GPS.
Garmin GPS Serial data Format.
Recording EFIS data.
Capture Serial data.
Convert Raw Data Files.
Free GPS Software.
Reading GPS data.
Reading Garmin GPS data.
Aircraft EFIS Flight Instruments.
Electronic Flight Instruments.
Aircraft Engine Monitor System.
Garmin G format.
Infinity landing gear LongEZ Plans Built Airplane.
Oil Heat system for Homebuilt airplane.
LongEZ Canard and main Wing.
Dynon instrument panel.
Custom Mouse cursors.
Garmin Serial Data Format.
Easy, Free Computer Time setting by GPS Receiver.
Custom mouse pointers.
Custom airplane mouse pointers.
LongEZ Nose gear doors.
Long-EZ main landing gear doors.
LongEZ grasscutter landing gear door.
Custom LongEZ mouse pointers.
Lycoming engine in LongEZ.
MT Propellor with 6 inch propellor extension.
EZNose Lift retractable nose gear for Long-EZ.
Rutan LongEZ is a plans built aircraft.
High speed homebuilt airplane.
Retractable landing gear for LongEZ.
Custom Airbus mouse cursor pointer.
Custom Velocity mouse cursor pointer.
NMEA 0183 Serial data Format.
Custom Cozy mouse cursor pointer.
Custom Aerocanard airplane mouse cursor pointer.
Custom E-Racer mouse cursor pointer.
Custom Canard airplane mouse cursor pointer.
Custom LongEZ mouse cursor pointer.
Set your Computer clock with this free GPS software.
Custom F15 mouse cursor pointer.
Custom A10 Warthog mouse cursor pointer.
LongEZ Hydraulic pump.
Retractable landing gear for a Long-EZ.
Custom F16 mouse cursor pointer.
Custom F14 mouse cursor pointer.
Custom Boeing 747 mouse cursor pointer.
Custom Boeing 767 mouse cursor pointer.
Custom Boeing 777 mouse cursor pointer.
Custom Boeing 737 mouse cursor pointer.
GPS Time Sync.
Custom Boeing 727 mouse cursor pointer.
Landing gear door rigging.
Custom Boeing 757 mouse cursor pointer.
Custom MD80 mouse cursor pointer.
Custom DC9 mouse cursor pointer.
Setting your computer to a GPS Time.
Custom RV mouse cursor pointer.
Downdraft cooling for LongEZ.
Speed brake installation.
Waiters Flight Data Recorder.
LongEZ Baggage pods installation instructions.
Waiters Custom Airplane mouse cursors.
Free GPS Time Sync Program.
LongEZ Intercom installation.
Major airframe overhaul of plans built EZ.
Weight and balance for a LongEZ.
Weight and Balance spreadsheet download for a Long-EZ.
LongEZ fuel system design.
How To remove the wings from a LongEZ.
How To remove the canard from a LongEZ.
Waiters GPS Time sync program runs on PC.
How To remove the engine from a LongEZ.
Long-EZ Downdraft cooling for a Lycoming O-320.
Long-EZ Wing Removal and installation instructions.
Waiters Retractable Landing Gear Controller.
Landing Light installation in LongEZ.
Install free EFIS software on your PC.
How to Put several longezs in one hangar.
How to install an Infinity Aerospace Retractable landing gear in a Long-EZ.
How to install DownDraft cooling on a Long-EZ.
GPS Time.
Setting you computer clock to GPS time.
How to set your Computer clock to GPS Time.
Using your GPS Receiver to set your computers clock.
Low cost GPS receiver used to syncronize Computer clock to GPS time.
Neat Canopy stay system for an EZ.
Cabin Heat using engine oil as source.
Waiters GPS Time, Syncronize your PCs internal clock with the GPS satellite.
Remote display of EFIS on a PC.
Cabin Oil Heater for a LongEZ.
LongEZ Landing Gear Door.
Rigging a LongEZ Landing Gear door.
Icom Radio in LongEZ.
How to Build a Manometer.
LongEZ Electrical system upgrades.
Grand Rapids EMS.
Custom Windows cursors.
Custom Windows mouse pointers.
LongEZ Cowling for downdraft cooling.
Record holding LongEZ flights.
Using a PLC for a retractable Landing Gear Controller in a LongEZ.
Syncronize your PCs clock to a GPS receiver.
Airspeed vs pressure lookup tables.
How to build a homebuilt airplane.
Video of LongEZ taking off.
Grasscutter landing gear door.
EZ Nose Lift installation.
Landing Gear status indicator.
Shareware software can set your PC clock vie a GPS receiver.
Landing Gear controller computer for LongEZ.
Landing gear doors.
Dynon EMS10 installed in instrument panel of a LongEZ.
Dynon EFIS D10A installed in instrument panel of a LongEZ.
Flight Data Recorder Software.
PlansBuilt LongEZ.
Video of High G turn in a Long EZ.
Strong Pitch Trim system installed in a LongEZ.
Strong Pitch Trim mounted on Left Side of Long-EZ.
Free software sets your PC clock with a GPS receiver.
Video of LongEZ Taking off.
Video of LongEZ Landing.
Video of LongEZ performing a high G turn.
Video of Infinity Landing gear being retracted into a LongEZ.
LongEZ Color White.
Painting your LongEZ.
White LongEZ.
Camoflage LongEZ.
Infinity Landing Gear for LongEZ.
Strong Pitch system.